Product Overview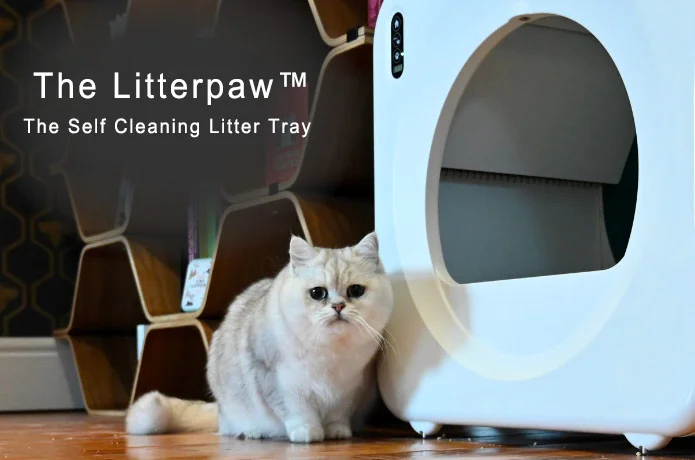 We love our cats. But if we're honest, we hate cleaning and emptying litter trays around the house. The Self Cleaning Litter Tray not only gorgeous to look at, but will make your life easier and your cats life nicer.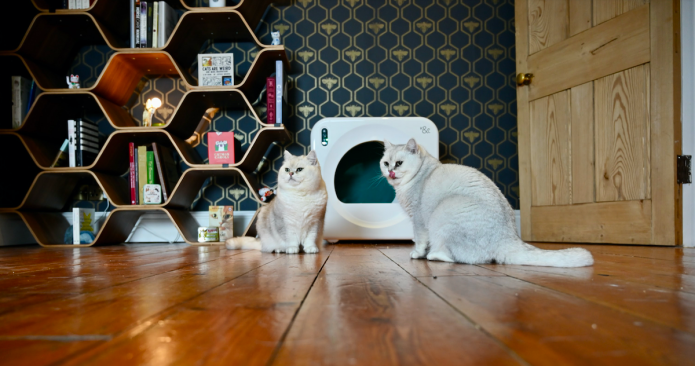 Hygienic – it features an automatic self-cleaning system that uses a stainless-steel rake to sift clumped wees and poos into a standard bag in as fast as 60 seconds. A sealed waste compartment reduces odor and makes emptying easy-breezy.
Safe – precise sensors will ensure that your LitterPaw will never run a cleaning cycle while your cat is inside or nearby. Toggling between manual and automatic settings lets you fully control how and when it works.
Familiar – it looks like a normal litter tray, so your cat doesn't need to 'learn' how to use it. In fact, Kuba went to the toilet in the prototype within 33 seconds of us putting it in our house and turning it on. It's also quiet so it won't spook them!
Convenient – the features a durable plow that completely empties the tray, making full litter replacement easy. It's also detachable for easy cleaning at any time.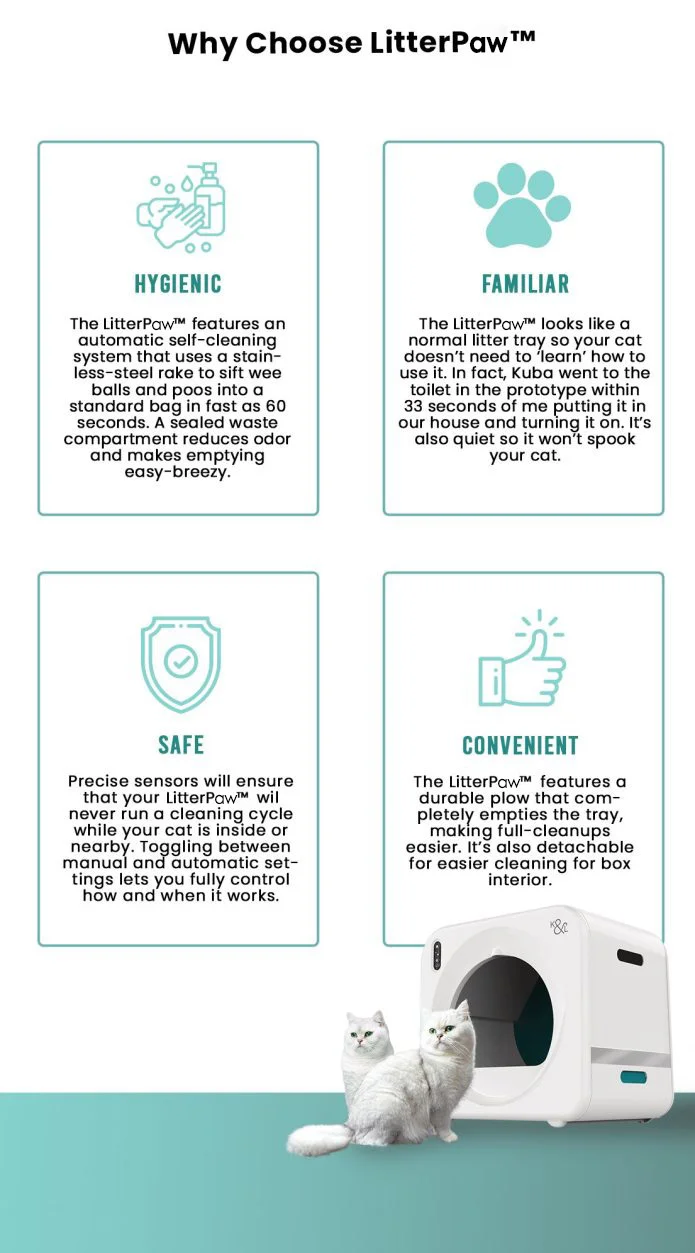 Cat's love a clean litter environment and are much more likely to use a litter tray that is sparkling clean even if a sibling or other cat has recently used it.
it works with 99% of clumping litters, so most cat owners can continue using their current litter.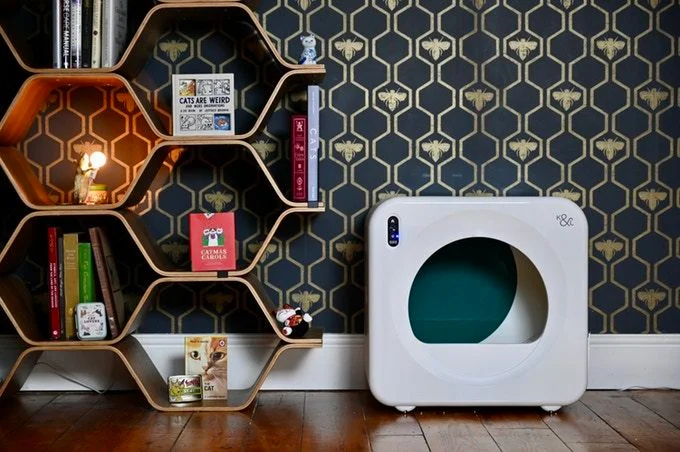 There are four weight sensors on the it. One on each foot.
These are accurate to 50g (0.11 lbs) and can pick up weight as low as 200g (0.44 lbs) all the way up to 25kg (55 lbs) and more. This means that the LitterPaw is suitable for kittens who are training as well as big breeds.
Once your cat goes into the LitterPaw, the sensors take approximately three seconds to calibrate. When the weight is confirmed, it is displayed on the LED display on the front of the unit.
This weight reading will remain on the display for five minutes before the display turns off again. Oh, and by the way, it's great if you need to weigh something before popping to the Post Office too!

Running a rake cycle (cleaning).
No matter if you have the it in manual or automatic mode - you can run a cleaning cycle at anytime by pushing the middle rake/plough button. If the paw button has a green light, the it has been set to automatic mode. So it will cycle automatically. If the paw button has a blue light, it has been set to manual mode. So when you want to run a cleaning cycle, you just need to press the button, as shown in this video.
Of course, in both automatic and manual mode, the weight sensors and motion sensors are always active so the cycle will stop if a cat is near or in the LitterPaw™.
Running a plow cycle (emptying).
It has a plow attached to the rake. When it's time to do the dreaded full litter change, let the plow do all the hard work for you! It sweeps through the litter seven times, pushing all of the litter in the tray, straight into the waste bag. Once complete just remove the bag and throw away!
Setting the Delay Timer
Different clumping litters clump at different speeds. Our thinking with the it is the sooner the waste is out of the tray environment and in the waste compartment the better it is at reducing smells. To allow for this you can choose the delay time between your cat going to the toilet, leaving the LitterPaw® and the rake cycle starting. This can be one minute all the way up to seven minutes. Depending on how quickly the litter you use clumps the quicker you can set it to run a cycle. From our testing, most litters need between three and four minutes to clump well.
It has been designed to be used with most standard supermarket carrier bags. The bag simply clips to a wireframe and is very easy to insert and remove.
Refilling with litter.
The LitterPaw™ is easy to fill with new litter.
Just take the lid off and pour straight in. It has been designed to work with clumping litters. It does not work with pellet based litters or silica/crystal litters.
The general rule of thumb is the litter you use needs to both clump and also be made up of fine granules. This is so the rake can pass effectively through the litter to collect and dispose of the waste.
FAQS
Q:Is it suitable for big breeds?
Yes. We've had fully grown Maine Coon's and Norweigan's use the LitterPaw®. The internal cabin is large with 19 inches / 48cm of height clearance between the top of the litter and the lid. ​If it is a tight squeeze, the LitterPaw® can be used in manual mode with the lid off. Great for our furry friends who like to toilet al fresco!
Q:What guarantee does the LitterPaw® come with?
We're genuinely committed to making the LitterPaw a product that will last for years. It comes with a one year guarantee as standard. And at a later time we will offer an affordable option to extend this.
Q:Can kittens use it?
The weight sensors on the LitterPaw® are sensitive from 200grams. They are also accurate to 50grams. This is well below the weight of kittens when they start to be litter trained. We also know from experience that kittens can group together and even sleep in litter tray environments. This is a primary reason we have both a motion sensor and four weight sensors built into the LitterPaw®.
Q:What are the dimensions and weight?
The LitterPaw® is 23.5 inches (596mm) wide by 23 inches (585mm) high x 18 inches (450mm) deep. It will weigh between 30 and 35lbs.
Q:How easy is it to clean the rake?
The rake can be removed anytime. It's stainless steel,​ so easy to clean and won't rust.